Op 7 juni heb ik een bijzonder leuke voordracht kunnen geven bij het BPUG Seminar "Organizational Energy". Gesproken over Risico Management als enabler bij change en innovatie.
Kern van de b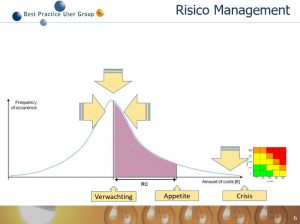 oodschap: bekijk risico management niet primair als bedreiging of kwetsbaarheid die je moet verminderen of vermijden, maar juist als een (beinvloedbaar) gegeven met een bepaalde verwachte uitkomst.
Ik leg een verband met cultuur en gedrag zoals je die bij High Reliability Organisaties ziet. HRO's (een vliegdekschip is een mooi voorbeeld) hebben continu met bijzonder veel risico's te maken, en hebben zich volledig ingericht op het vroeg onderkennen va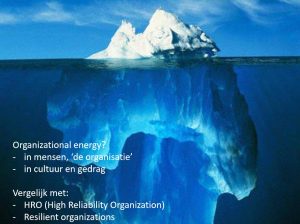 n risico's.
Weick & Sutcliffe beschrijven dit als "mindfulness":
"High Reliability Organizations use mindful organizing for the unexpected as well as the expected. Mindfulness is a mental orientation that continually evaluates the environment as opposed to mindlessness where a simple assessment leads to choosing a plan that is continued until the plan runs its course. Mindfulness track small failures, resists oversimplification, remains sensitive to the operations in practice, maintains the capability for resilience, and takes advantage of changes in who has expertise."
(Weick & Sutcliffe, 2007)
Tenslotte beschrijf ik de interessante parallel met de oosterse gen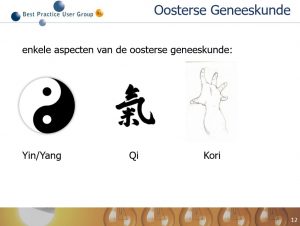 eeskunde en haar beschouwing van energie in organismen. Ook vergelijkingen van de oosterse en westerse manier van denken kwamen langs.